Employment with Purpose

Local delivery every Tuesday
Can one bowl of soup help change the world?
The Raw Carrot is a social franchise that believes that every person who WANTS to work should have the opportunity for a Hand Up (instead of just a handout) in life! We partner with churches and nonprofits across Ontario to create meaningful employment for amazingly talented individuals living with disAbilities and mental health illness.
We're "stirring up" change in local communities through our delicious, handcrafted gourmet soup.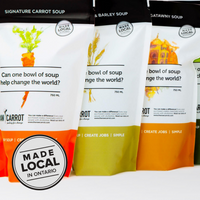 How Local Delivery Works
If you live within 20 km's of our Paris, Woodstock, Kitchener or Mount Forest locations (and some surrounding areas):
1. Add $35.00 (or more!) of tasty soup to your shopping cart.
2. Enter your shipping details for our local delivery (only $5.00 - or choose to pick up for free), and complete you order. 
3. We deliver every Tuesday for orders placed by Sunday at Midnight.
4. We recommend that you pop a cooler and ice packs on your door on Tuesday (you'll get a reminder email) for some delicious gourmet soup to arrive at your door!  
5. Enjoy!
"I just got my first (online) order delivered to my house yesterday! Friends, this is an incredible organization doing good work in our communities (and widening!) and making DELICIOUS soup that is so good for you! If you are in one of the areas being serviced, please consider supporting this organization by filling your tummies. Doesn't that sound like the best thing ever? It is - just wait till you try their soups!" 

Deidre F.
Place your order OR come and visit!
We'd love to meet you! If you want to see our amazingly talented staff in action send us an email at: info@therawcarrot.com